Computers play a large role in your life, whether you realize it or not. For many people, computer is the only tool that they contact with the outside world. However, computer can be subject to various problems. For instance, my computer keeps freezing. Have you ever encountered the same issue?
Why does my computer keep freezing? How to fix computer freezes?
Here are several common reasons and solutions for computer freezes.
Checking Mouse
Sometimes, users will think their computer keeps freezes when their mouse is unresponsive. However, in fact, this does not mean your computer is freezing. It is mouse faulty.
It is recommended to check the mouse and see if it works. If you are using a laptop, try unplugging the mouse and then using the touchpad or changing the batteries. If you are using a wireless mouse, try changing the batteries.
Computer Overheating
Overheating may put the system in the freeze mode, and it is purely an environmental issue. The CPU is really sensitive to extreme heats. And, CPU is extremely sensitive and integral to the functionality of the computer. It performs more slowly and even freezes when your computer starts to overheat.
You must place your computer in proper position and always make sure that your computer's vents are not blocked. Once the cooling vents are blocked, your computer will start to overheat quickly.
Make sure that your computer fan works fine. If the computer fan is broken, your computer can easily start to overheat within just a few minutes. In this case, please immediately take your computer to local a repair shop and get someone to replace and fix your fan.
If you have to work in harsh environments, try using computer casing.
Too Many Programs Opening
If you are running too many programs at one time, your computer will run very slow, and as a result, is freezing. This is because that each program computer needs some internal and hardware resources to keep it running. Now, if your computer keeps freezing after running too many programs, you should right-click Task Manager, choose Task Manager, then click the Processes, and find the program that is frozen and click End Task.
Software Error
Third-party software can cause system freezes because it can take up a lot of memory for you to use it on your computer or may attempt to perform actions or access resources that Windows cannot understand. So, your computer gets hung up and freeze. To solve this, you can update all third-party software that is installed on your computer. Besides, never install pirated software because it often contains malware which can cause your computer freeze.
Driver Related Issue
Computer keeps freezing can also be caused by hardware failure. It is recommended to update drivers to the most current version – as soon as a new version becomes available.
Right-click This PC in Windows 10/8.
Click on Manage, and click on Device Manager.
Find and right-click the drive you want to update its drivers, and then choose Update Driver Software...
Corrupt or Missed System Files
Corrupted or missed system files can cause Windows 10 freezes. Fortunately, Windows built-in tool - System File Checker can help you effectively restore any broken or missing system files that could be causing your PC to freeze.
Step 1.
Tap the Search button on the taskbar.
Step 2
. Type command or cmd in the search box.
Step 3.
Right-click the Command Prompt and choose Run as administrator.
Step 4.
Click Yes when you receive a warning message that says "Do you want to allow this app to make changes to your device?"
Step 5.
In the black Command Prompt window, type "sfc /scannow" and then press Enter button on your keyboard. Then, Windows will begin to scan your system for corrupted files and attempt to fix any it finds.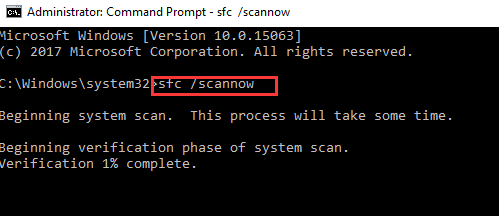 Step 6.
Type exit after the operation is complete and then click Enter button to exit it.
Operating System Related Issue
Sometimes, if your operating system is damaged, your computer might freeze.
Now, to solve this, you can try reinstalling Windows. (NOTE: Reinstalling Windows can delete some of your data. If you don't want to lose data, you can try recovering lost data before reinstalling.)
If
your computer still keeps freezing
after trying the above solutions, you can consider talking to qualified professionals. You may visit your local computer repair shop and allow a computer technician to diagnose and fix the problem.